SEO can be described as helping your brand appear more credible to search engines.
When you're looking for a something online, what do you do? Chances are, you pull out your phone and type what you're looking for into a search engine. You then judge all the search results based on ranking position, how many reviews, how established the company appears, and if the website is good. All of this is SEO, and it directly correlates to how likely users are to buy something from a company.
So What Exactly is Local SEO?
Local SEO does not have an official definition because it's a process that slightly varies between different agencies. Moz defines it as, "a process for increasing search visibility for businesses that serve their communities face-to-face. These can be brick-and-mortar businesses with a physical location or service-area businesses that operate throughout a certain geographic area." 
Overall, Local SEO is utilizing various techniques and methods to help improve your business' ranking in local search results. A local search occurs when the potential customer includes a city or other geographical marker along with their search. 
For example: "Orlando Marketing Agencies" or "Restaurants in St. Cloud"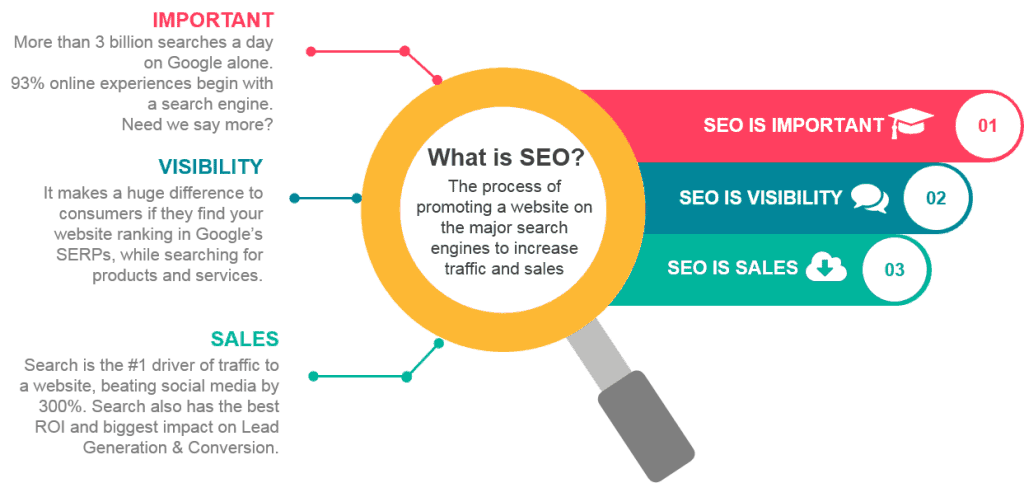 As you can see in the graphic, SEO is an important aspect of your business' online presence because it directly effects your visibility and potential sales online. 
Why Should My Business Care?
Neglecting to focus on local SEO is potentially costing you actual customers who are finding your competitors instead! Simply put, local SEO increases your online visibility by interested searchers (aka, future customers!) Did you know 64% of local customers use search engines and directories as their main way to find a local business? And, 50% of searchers visit businesses within 24 hours of a local search.
Just setting keywords is not enough to be considered a strong SEO strategy. There are a lot different factors that go into SEO. We'll talk more about those below. 
Keep in mind
72% of consumers who did a local search visited a store within five miles. (WordStream)
30% of mobile searches are related to a location. (Google, 2016)
71% of people say they look up and confirm the location of a business before going to it for the first time. (Hubspot)
78% of local-mobile searches result in offline purchases. (Search Engine Land, 2014)
What Can I Do To Improve My SEO?
There are a lot of things business owners can do to improve their local SEO and strengthen their SEO strategy. Most of these can be done yourself if you put the time in and stay on top of your SERPs data. It's important to keep in mind that all site activity, online reviews, and brand credibility all play a role in your local SEO.
Optimize Your Website
Website optimization is one of the most important steps you can take early on in your SEO strategy. Search engines use tools called "Spiders" to crawl your website. The easier you make it for those spiders to find and index your pages, the better you'll rank over time.
Be sure to keep an eye on your analytics because how long people interact with your site, what your bounce rate is, if your site is mobile supported or responsive, if your site is secured, and more all affect rankings.
Analyze your website and fix any issues that stand out. GTMetrix and Google PageSpeed help a lot.
Make your site as fast as possible. Consider using a CDN such as CloudFlare.
Enable browser caching
Make sure your site uses a consistent link/URL structure.
Remove any unnecessary plugins. Those slow down websites significantly.
If you're using an SEO plugin, make sure it's set up correctly.
Go through each page to set keywords, metadata, and fix content issues.
Create individual pages for all services, locations, products, etc.
Submit your site directly to search engines.
Claim Your Google My Business Profile
As we mentioned earlier in this article, Google is the most popular search engine holding a massive 75% of the search engine market share. Because of their power in the industry, their tools and services are a great place to start when building your local SEO. Google My Business is a free online service that allows you to directly add your company info to Google. It usually appears in a right hand sidebar, but this data can also show up elsewhere within Google as well.
Information you can directly add to Google My Business includes:
Company Name
Logos & Photos
Contact Info
Website & Secondary Website
Hours of Operation
Popular Times
Service Info, Amenities, etc.
Complete Online Directories
There are 200+ online directories out there throughout the internet. Some of them are even industry-specific that aim to help niche or specialized businesses. As Hubspot states, these sites are online lists of businesses within a specific niche, location, or category. These directories list your most relevant company info such as name, address, phone number, and website. Directories are scored by how much they will help your SEO using a number called Domain Authority. You'll want to focus on the highest scoring directories first then do the rest after.
Some directories also have verification and enhanced profiles so be sure to complete each one entirely.
Those are just a few. We'll be publishing a full list in our resources soon!
Maintain Customer Reviews
Did you know 88% of local consumers trust online reviews as much as personal recommendations? With this in mind, it's easy to see how online reviews factor into a successful local search engine optimization strategy.
Just like with online directories, online reviews sites are all over the internet too. These sites allow people to write reviews about your products and service, but some review sites hold more weight than others. Typically, reviews directly on search engine and social media are the ones that help businesses the most.
It's important to stay on top of your reviews and respond to EVERY review — even the positive ones. Be sure to thank the user for reviewing you, and if it's a negative review, respond offering a solution to the customer's complain or describing the situation so future potential customers can see the reason behind the poor review.